Avenue in The Advocate: the Light of St. James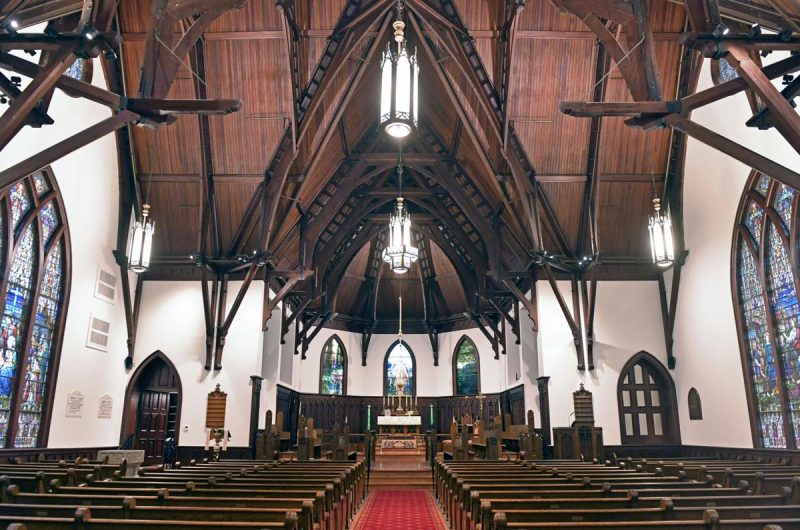 Avenue was featured in The Advocate earlier this month for being a part of the renovation at St. James Episcopal Church in downtown Baton Rouge.
Check out our project here.
To read the full article, click here.
Necessity is the mother of invention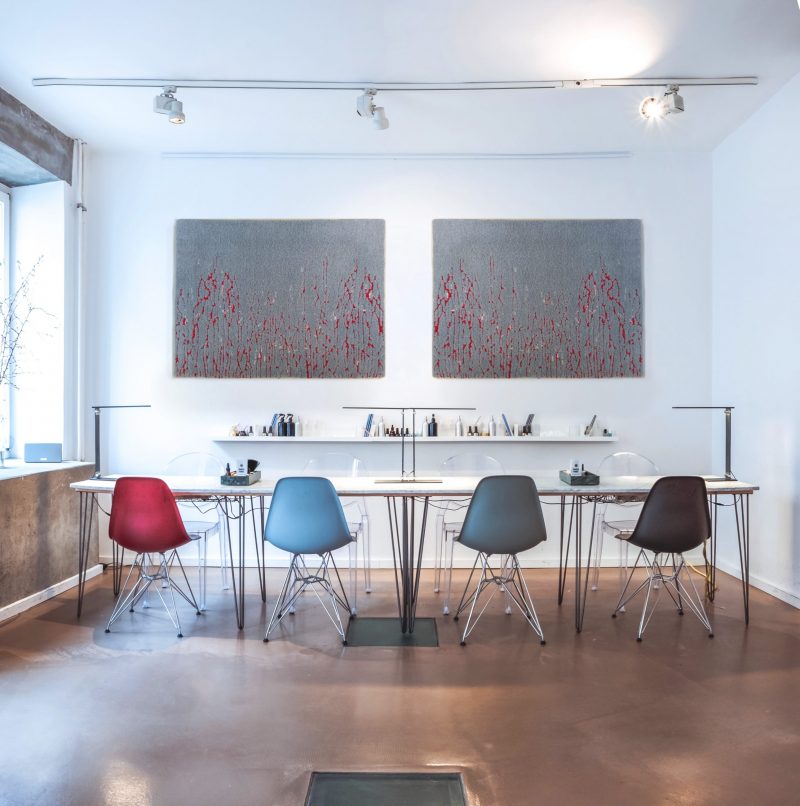 The problem in the industry, sound reverberation, has become a significant issue now that carpet (NRC.73) is rarely used in public commercial spaces. Conversation is difficult at best. NRC rating of .25 is typical for walls. To control reverberation, sound absorbing materials are attached to walls and cloud devices are hung from ceilings. Success is variable and, aesthetics are debatable. We propose a more beautiful, durable option: Avenue Acoustical Art ®. Made of natural materials (wool, cotton, latex) on a wood frame, our product offers more than good looks. Custom sizing and designs available or browse our patterns for inspiration.
Bucket List Scotland Golf Vacation Inspires New Collection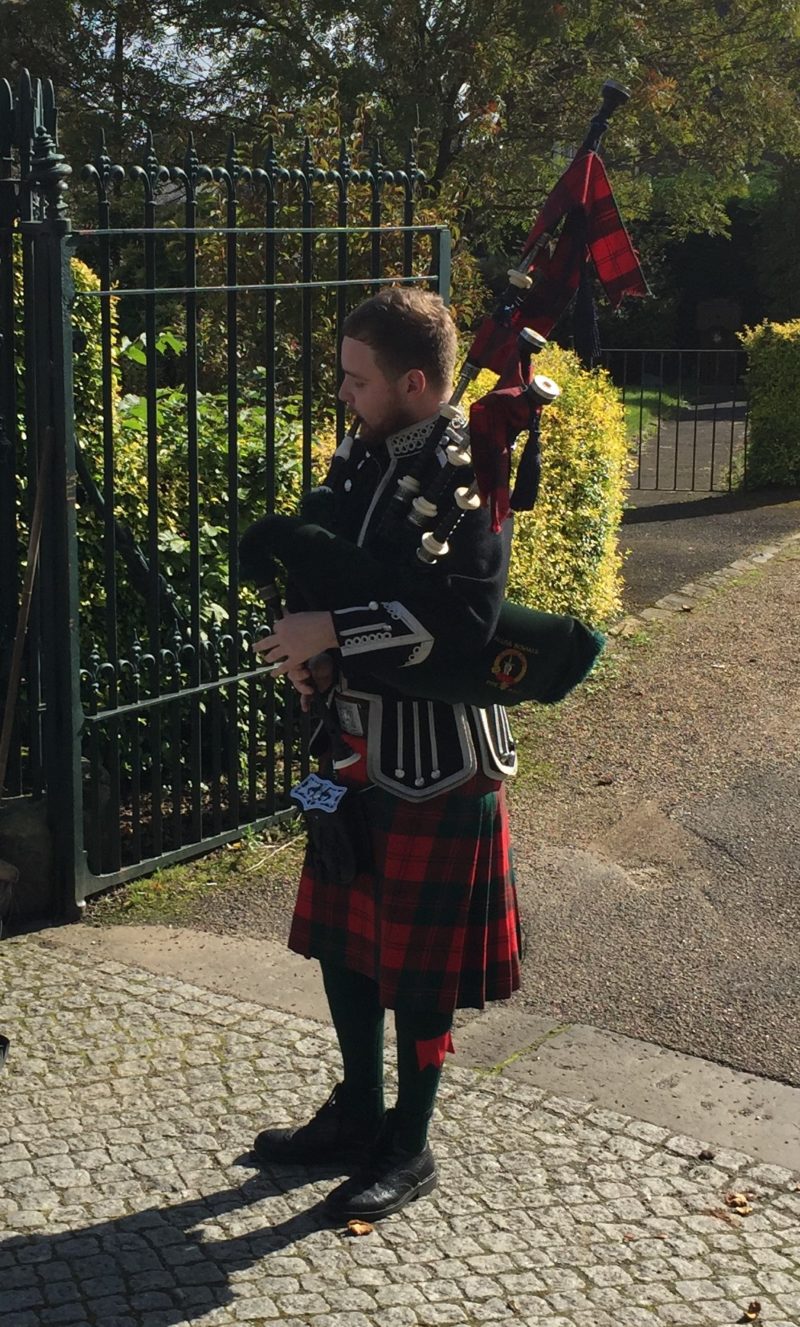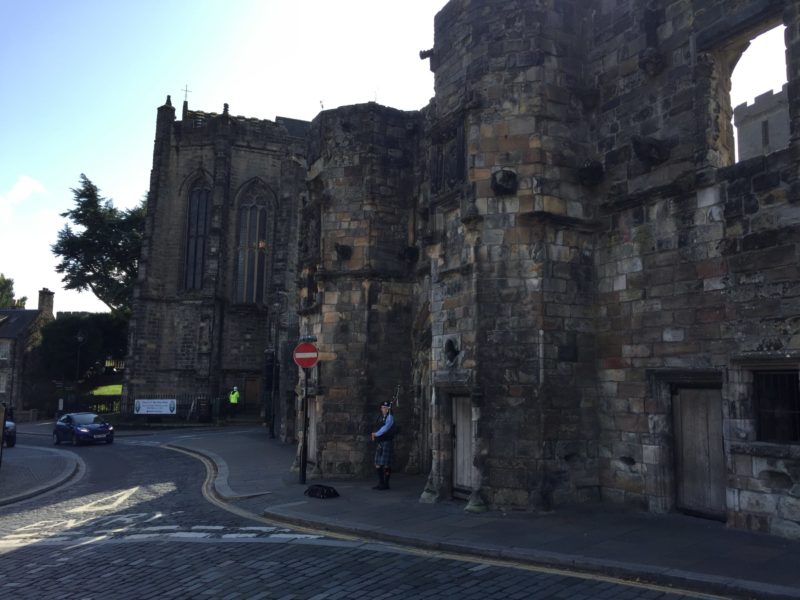 Our founding principal, Charlie Chartier, finds ancient patterns and the stories of their creations an incentive to add a new collection at Avenue Rugs. Tartans were most popular in hats, scarfs, handbags, golf towels, and of course Kilts. Other patterns were everywhere in stone, tile, tapestries, castle bedding fabrics and rugs. Hand woven tapestries, today's acoustical art, were spun & woven in Edinburgh Castle.
Tartan is the pattern that comes to mind when someone says "plaid." In Scotland, plaid refers to garments or blankets, but tartan has a much deeper history. The Scottish tartan is documented back to 3rd Century AD, from Falkirk Scotland though the pattern itself can be traced as far back as 1,800 BC. The plaid we think of today dates to the 16th Century and is a prominent symbol of Highland Culture in the 17th and 18th Century. Due to rebellions against the throne, tartan items were banned in Scotland by the Dress Act of 1746 until 1782.  In the 19th Century, it became a distinction between clans and became recognized as a cultural icon of Scotland. In, present day, it can be seen in districts, corporations, even military all over the world.
Originally, Tartan was very pale, muted colors, but as chemical dyes were introduced, the colors became deeply saturated like gem tones. King George the IV popularized the pattern in Europe during the 1800s, and as we progressed to the 20th Century, an array of colors could be created to use in the Tartan pattern.
What Avenue has for you in our collection is a more traditional muted pattern, a newer age pattern, and a single color pattern that uses loop and cut techniques for a subtle elegance for commercial design.
See the collection here.
Inspired campaign launch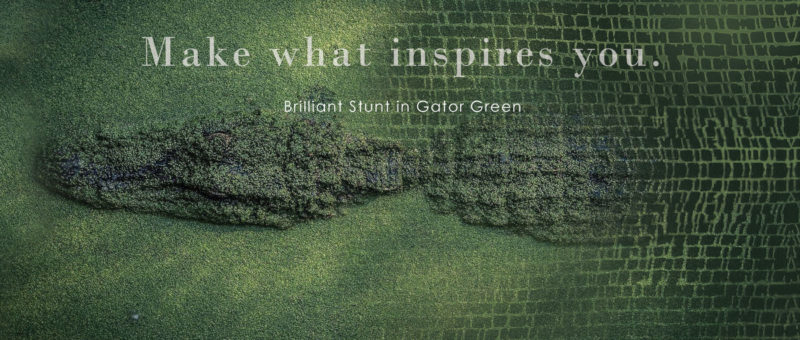 Make what inspires you. We're proud to launch our latest campaign, Inspired. Focusing on what sparks creativity and looking at the world from a different perspective to visualize new ideas is what drives design. Patterns like Brilliant Stunt where taken from the details we find in nature, while patterns like Wind are how we interpreted the movement of gusts that we cannot see. So tell us, What inspires you?
Brilliant Stunt: Designed by Kimberly Graff
Wind: Designed by Ariel Hoggatt
A Muscadine from the Vine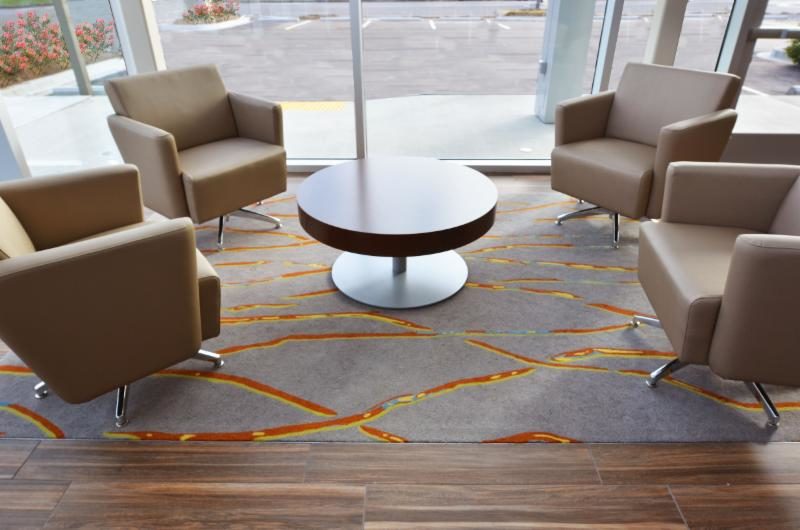 Hancock Whitney developed a new Whitney branch prototype to meet today's needs in retail banking.  Angelique Giesemann, AVP, Facilities Project Manager, met with Avenue Rugs seeking a solution for sound control that would complement the design.  Angelique and Kimberly Graff, an Avenue Rugs product designer, chose Kurt Schlough's pattern, Muscadine, from the Artist Collection.  The team chose a subtle gray color accompanied by a fun grouping of apricot orange, canary yellow, a slice of lime green, and a hint of mystic blue.
Designed By: Kurt Schlough and Colored By: Angelique Giesemann and Kimberly Graff
Cue Movement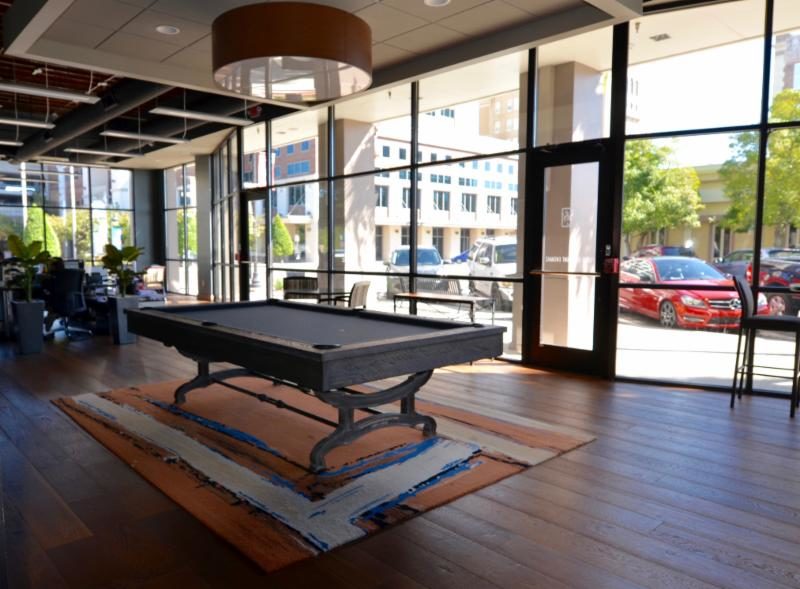 Amy Varner, Interior Designer at Eley Guild Hardy Architects,was looking for special interior finishes for the new lounge and work space at the Law Firm of Davis & Crump in Gulfport, MS.Amy selected a standard Avenue Rugs pattern "Arch III", a Jeff Stolier design from the "Art on the Floor" collection.  Custom sized and largely influenced by the color palette in the room, Amy chose to add a vivacious blue and zesty Cajun red to the rug to accent the space!
Designed By: Jeff Stolier and Colored Amy Varner
Multiply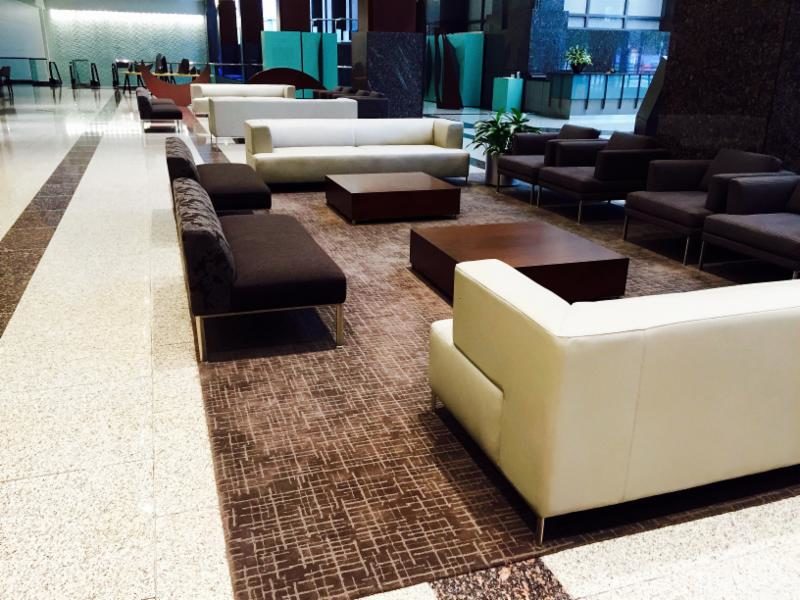 Debra Bach reached out to Chris Watson for area rugs that would work with the existing architecture and permanent finishes of Heritage Plaza's Lobby Space. Debra's client found a pattern they liked that was very similar to an Avenue Rugs pattern "Multiply".  The size and shape of the 5 rugs was determined by existing architecture.  One of the rug shapes is a congruent quadrilateral. Colors were selected to work with the existing stone finishes.
Pattern Selected and Colored By: Debra Bach
Graphique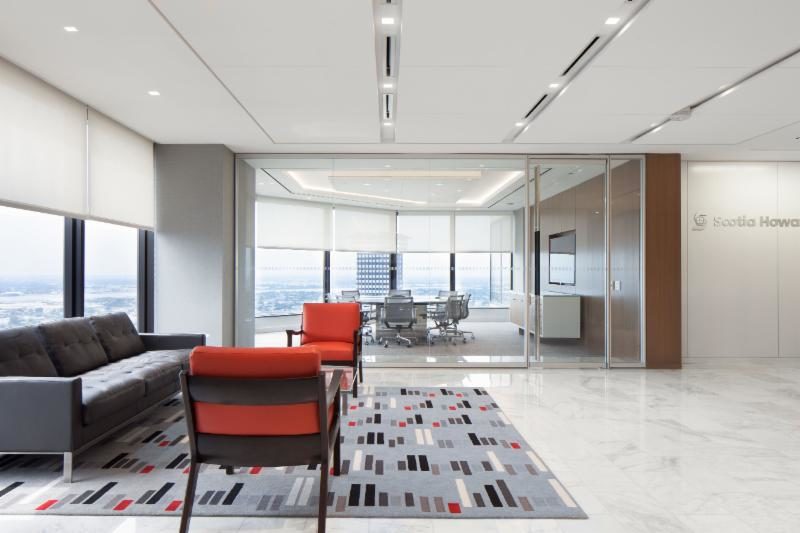 Holly & Smith Architects designed a sleek, modern lobby space at Scotia Howard Weil New Orleans.  Holly & Smith designer Mary Mowad Guiteau was able to select from a range of designs and customize the colorway to work seamlessly with the interior of the space.  The rug is modern and simple in its design, yet the bold red accent lends the perfect amount of contrast and excitement.
Pattern Selected and Colored By: Mary Mowad Guiteau
See You at the Shore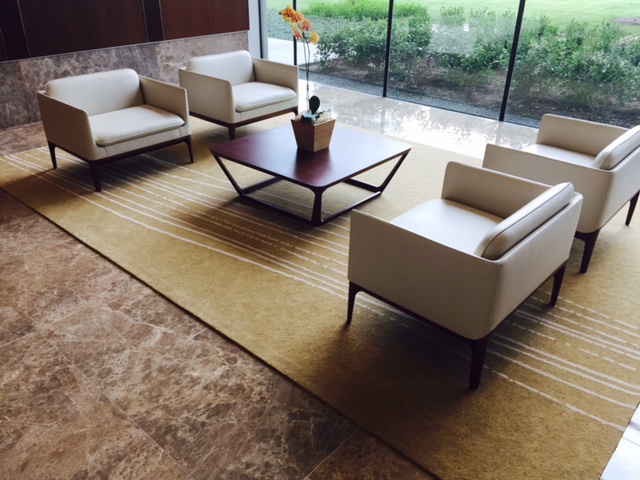 Fluid motion and curving softness was the design inspiration for Shoreline created by textile designer Kimberly Graff.  Using an existing "oldie but goodie" Avenue pattern, Waves; Project designer Juliana Young wanted a one of a kind piece with less pattern and toned down curves.  Breaking points were also added to the curved lines.  Houston Avenue representative Chris Watson offered product assistance to create this unique rug for an elegant west side lobby refurbishment.  The color selection Nutmeg was created by drawing colors from existing architectural materials and complementing the overall design with softness and texture.
Designed By: Juliana Young and Kimberly Graff
Vines on the 36th Floor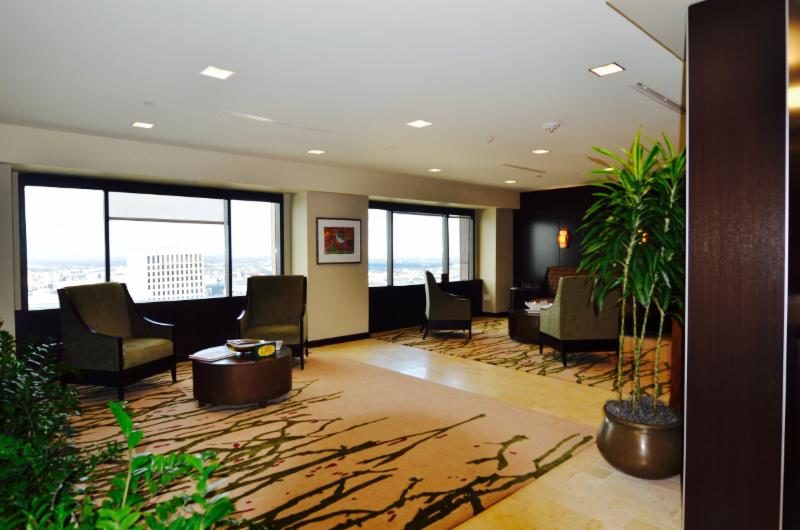 This #AvenueRugWork was a team effort, to say the least! Working alongside Alison Lipps of AOS was a great pleasure. While determining just the right pattern for the lobby, we were mainly inspired by nature taken from the existing art in the firm's lobby. For color, we were guided by the fabric upholstery. The pattern Twindle was chosen by the firm's partners. Alison and I guided the final color direction and placement. We felt that having a neutral tan background that was dark enough to hide soil but light enough to disappear on top of the beautiful cream travertine was ideal. Twindle has streams of branches moving across the body of the rug; for this, we choose an earthy green. We also incorporated a dark purple to serve as the color position for the sprouting branches that trickles throughout the entire pattern. This small color detail adds an unexpected touch that offers the rug just enough pizzazz.
 Designed by:Alison Lipps, and Kimberly GraffNew Orleans, LA